ROSS MITCHELL'S
DANCE AND LISTEN ORCHESTRA
click here to here the orchestra playing the quickstep 'How High The Moon'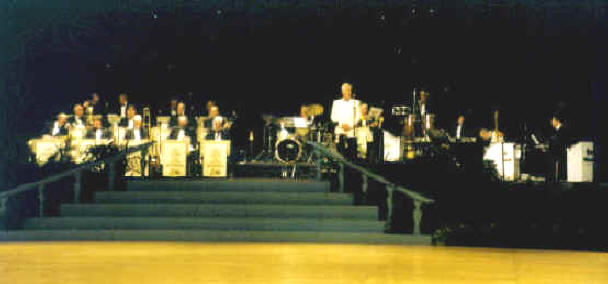 The Dance And Listen Orchestra was formed in 1995 for the specific task
of playing at the International Ballroom Championships held annually
at The Royal Albert Hall in London. The band is a full big band consisting of
4 Trumpets, 4 Trombones, 5 Saxophones, 6 piece rhythm section and 2 singers.

Since its conception the band has played at many Ballroom Championships and
events in the UK, the latest being 'The Ambassadors Ball' in Bournemouth held
in January each year. Apart from playing its own crafted arrangements the band also
plays music by Ted Heath, Benny Goodman, Count Basie, Nelson Riddle, Glenn Miller
and many others from the 'real' big band era.

A magic night is always in store when Ross Mitchell's Orchestra is playing.
With the best English musicians involved, great arrangements, great singers
all with a genuine enjoyment of what they are creating.
A night to remember if you book the band.
For availability and fee quote please email: ROSS MITCHELL
or Telephone 01252 629 740 - Fax 01252 811 788

Ross Mitchell's Dance And Listen Orchestra
Telephone: +44 (0)1252 629 740
[Home Page] [EMAIL: ROSS MITCHELL]